Kids Ministry at City Centre Church
At City Centre Church all kids (infant through 6th grade) are invited to experience safe, age-appropriate environments where they learn about Jesus in a creative and fun way.
Our City Kids Staff and Volunteers are so excited to meet you and your kids!
What Does Registration Look Like?
Here's what to expect when visiting City Kids for the first time:
Once you enter our building our hosts and signs will lead you up to the second floor, where you will be greeted by our Kids Director and register your child(ren).
When registering your child(ren) into our system, you will be asked the following personal information (which we keep entirely confidential for security and emergency use).
Parent/Guardian name(s)
Child's name
Child's Birthdate
Home address
Phone number/contact information
Special instructions (allergies/medications to be aware of)
Once you've registered your child(ren) will receive a disposable security tag and you will receive the corresponding security code to ensure the safety of your child among pickup. At this point your child will join their age group for a morning of fun and you can make your way up to the third floor for the service!
Our hope is that you enter a space where your kids have fun and where you feel comfortable leaving them with our trained and trusted volunteers! We value the growth that will happen in our children's ministry but we want to be supporters of the most important place and space for spiritual development: your home.
What Does Kid's Church Look Like?
NURSERY (0-3 Years)
Before Service: Parents will be greeted by our Kids Director at the second floor check-in desk and kids will be welcomed into the nursery by our amazing volunteers! From there parents are free to head up to the main service!
During Service: Our volunteers will spend the morning playing with your children, enjoying stories and an age appropriate Bible lesson, create a take-home craft, sing worship songs, pray together, and enjoy a healthy snack!
In the case of a diaper change, or emergency our Kids Director will contact the parent at the phone number provided at registration.
After Service: At the end of the service, we ask that you promptly pick-up your child by providing your personal security code given at check-in. We take safety seriously so your child will not be released without this code or proof of guardianship.
ELEMENTARY (4-11 Years)
Before Service: Before Service: Parents will be greeted by our Kids Director at the second floor check-in desk and kids will be welcomed into their classrooms by our amazing volunteers! From there parents are free to head up to the main service!
During Service: A typical Sunday morning in Kids Church looks like this!
Classroom Time - Children are given time to create meaningful friendship with each other and our leaders through games and activities as soon as they enter City Kids!
Large Group - Children will move rooms to their very own worship space! Our City Kids team will lead your children in energetic and age appropriate worship, our Kids Director will teach a engaging lesson founded in Scripture, which is then reinforced with games and fun!
Small Groups - Children will head back to their classrooms with our volunteers to review what they learned in Large Group through discussion and prayer time. There will be a healthy snack and children will create a take-home craft to remind them of what they learned!
After Service: We ask that you pick up your child promptly after the service. Once you arrive on the second floor and submit your security code to our Kids Director we will release your child to you! We encourage you to take a moment and ask your child about what they learnt. Our Kids Volunteers will have a take-home guide for you that will support you as you continue to teach your child about God at home!
Mother's Room
New mothers - we want you to have a full experience at City Centre Church and have a safe space to nurse, change, or comfort your baby in a private setting! On the second floor we have a room exclusively for moms and babies with a live feed of the service so you don't miss a thing! This space is for you so feel free to come and go as you please!
Meet our Kids Director
Calley Symyrozum joined the City Centre Church Staff in 2020 as the Kids Director. Calley is passionate about seeing children experience the love of God, and helping them walk in the plans that God has for them! Calley is completing a Bachelor of Arts in Theology (Intercultural Ministry) and is obsessed with coffee and adventures! Make sure you say hi! She's so excited to meet you!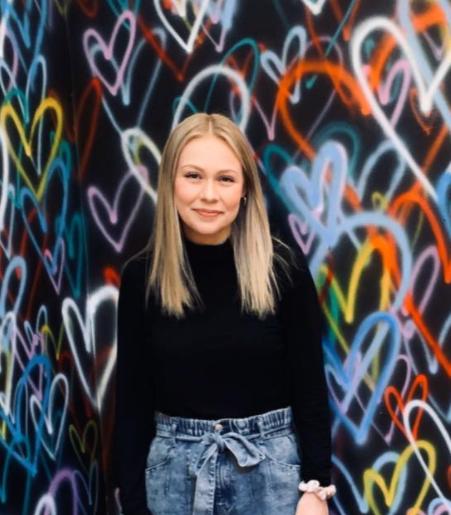 Got questions?
If you have further questions concerning our City Kids experience or visiting City Centre with children, send us an email at: kids@citycentrechurch.com.